Excel Staffing Companies Jobs: Overview
Excel Staffing Companies provides quality temporary, temp-to-hire and direct hire employees for administrative, general office, accounting/finance, manufacturing/light industrial, and technical jobs. Also available from Excel are payroll services, special projects staffing and on-site staffing management solutions.
Some differentiating features of our service are:
Technology – our state-of-the-art testing and training software combined with current technological tools ensures we provide highly qualified candidates to the most prestigious companies in New Mexico.

Experience – our staff has over 225 years of combined human resource experience in recruiting and staffing in our local market.

Knowledge – continually trained and updated regarding industry-related issues, our tenured staff stays on the cutting edge of technical and legal issues regarding human resource administration.

Flexibility – being locally owned and operated, we can quickly provide you with customized solutions to meet your needs.
Our approach to staffing has stood the test of time. In the past three decades Excel Staffing has become the largest locally owned and operated staffing firm in New Mexico. Since 1971 Excel has found jobs for over 40,000 people.
In addition to Excel's corporate headquarters in Albuquerque, we also operate branch offices on the Westside of Albuquerque, in Belen, and in Santa Fe, New Mexico.

At Excel, excellence is an attitude!
Work for New Mexico's largest staffing company
Top pay and excellent benefits
Bridge to full-time employment
Flexibility, independence, and choice
Improve skills with Excel's computer-based training
Short-term, long-term, temp-to-hire, and contract assignments
Direct placement opportunities
Assignments with New Mexico's best companies
Never a fee
Affirmative Action / Equal Opportunity Employer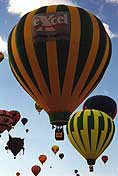 Whether you are between jobs and looking for full-time work, or you want the independence and flexibility of temporary positions, Excel can help you find that perfect job. Locally owned and operated by the same owners since 1971, Excel is the number one supplier of staffing services in New Mexico. In fact, 2,460 candidates found employment with Excel in 2004. We have the most and the best assignments for you. Excel's many years in New Mexico have resulted in a broad base of thousands of customers, which means more choice for you.
Register today to find the job that is right for you.
At Excel, you are a valued employee.
Excel Values
Integrity and responsibility
Providing uncompromising service
Making our customers and employees successful
Equal Employment Opportunity

Market share and profitability
Good corporate citizenship
A respectful, professional, and friendly environment
Having fun
Excel's Vision Statement:
Successful Employees
Successful Customers
Excel's Mission Statement:
Creating Successful Staffing Relationships
X
Send Message to Excel Staffing Companies
Your email has been sent!